---
Simply Better Foods Organic Tofu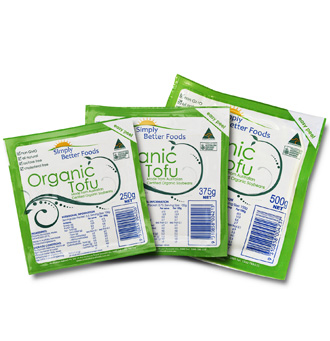 Interested in stocking
our delicious products?
Simply Better Foods Organic Tofu
Using only Australian Grown Certified Organic Soybeans to make our premium quality Organic Firm Tofu ensures organic integrity and a naturally full flavoured, more nutritious tofu. Our Certified Organic Soy Beans are sourced from the farming regions of inland southern Qld and the Riverina region that extends from inland northern Victoria up to the southern half of inland NSW.
Certified Organic
Non GMO
Cholesterol Free
Lactose & Dairy Free
Preservative Free
Vegan & Vegetarian
Firm Tofu Uses
The advantages to using our firm tofu is the multitude preparation cooking methods. Few ideas on using out Organic Firm Tofu
Slice into 1cm strips and stir fry with baby bok choy, broccoli, red onion and fresh hokkien noodles
Dice into 2cm cubes and use in soups, vegetable skewers, curries and salads
Slice 1cm fillets, encrust with sesame seeds sided with a fresh tossed summer salad.
Scramble tofu adding fresh parsley, chives, turmeric, salt and pepper to taste.
Slice into strips, add fresh julienned cucumbers, carrot, alfalfa sprouts combined and folded for a nutritious healthy wrap For meal/recipes ideas please visit our recipes page or click in the below links.
Marinating:
To create full flavoured tofu dishes here are some quick tips on marinating tofu.
Pat dry tofu block of any excess water with paper towel.
Cut tofu block into desired pieces. Cubed; Strips; Slices. Place tofu into a container, bowl or resealable bag.
Prepare a simple marinate using soya sauce, lemon juice, garlic and ginger
Pour marinate onto the tofu cover and leave for minimum of 15 minutes, the longer you can let the tofu marinate, and the more flavourful it will be.
Helpful hints
Tofu pieces can be dry pan fried for 1 to 2 minutes prior to marinating to extract moister. This will allow more marinate to be absorbed through the tofu.
Whole block can be marinated but allow a few hours for good absorption.
Use your reserve marinate for cooking your dish.
Health Benefits
Tofu is low in fat, calories and cholesterol. It is also an excellent source of high quality protein
With anti-oxidants tofu has been scientifically proven to reduce the risk of cardio vascular disease
Tofu one of the few plant based proteins that contain all of the essential amino acids we need to stay healthy.
Studies suggest that high intake of soy-based products also prevents breast cancer, osteoporosis.
Ingredients:
Organic Soybeans, Water and Magnesium Chloride (511)
Allergen: Soy
Nutritional Information:
Servings per pack
- 250g Tofu – 2.5 serves per pack
- 375g Tofu – 3.75 serves per pack
- 500g Tofu – 5 serves per pack

Serving Size: 100g
Ave Quantity

Per Serve

% Daily Intake

Per Serving

Ave Quantity

Per 100g

Energy (kJ)

615kj

7%

615kj

(147Cal)

-

(147Cal)

Protein (g)

15.9g

12%

15.9g

Fat – Total (g)

8.8g

13%

8.8g

       - Saturated (g)

2.7g

11%

2.7g

       - Trans (g)

<0.1

-

<0.1

       - Polyunsaturated (g)

6.9g

-

6.9g

       - Monounsaturated (g)

3.0g

-

3.0g

Cholesterol (g)

Nil Detected

-

Nil Detected

Carbohydrates – Total (g)

0.3g

<1%

0.3g

                      - Sugars (g)

0.3g

<1%

0.3g

                      - Lactose (g)

Nil Detected

-

Nil Detected

Sodium (mg)

17mg

1%

17mg

*Percentage daily intakes are based on an average adult diet of 8700 kJ. Your daily intakes may be higher or lower depending upon your energy needs
Pack and Carton size:
PACK: 1 x 250g | 1 x 375g | 1 x 500g
CARTON: 6 x 250g pack 1.5kg | 6 x 375g pack 2.25kg | 6 x 500g pack 3kg
Shelf Life: 100 days from date of manufacturing. Store refrigerated at 1-4°C. Once opened use within 3 days.
WHERE TO BUY