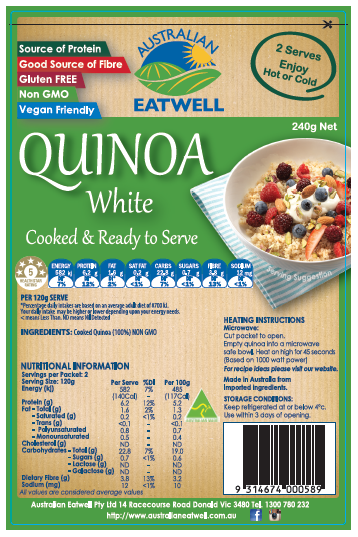 Interested in stocking
our delicious products?
Quinoa White
Classed as a super nutrient rich food, loaded with protein, fibre, minerals and doesn't contain gluten. If you are looking to add quinoa into your diet yet have trouble in finding the time to bring out the pots to prepare, we have solved this problem for you! Our prepacked, cooked, ready to serve quinoa takes minimal preparation and no cooking required. Australian Eatwell's White Quinoa can be a quick and easy addition to any meal. Healthy breakfast including a 240g packet of Australian Eatwell's White Quinoa, fresh or frozen berry mix, sliced bananas and a drizzle of honey is the perfect way to assist in sustaining energy levels throughout the day.
Source of Protein
Good source of Fibre
Non GMO
Lactose & Dairy Free
Preservative Free
Vegan Friendly
Cholesterol Free
Gluten Free
Ingredients
Cooked Quinboa (100%) Non GMO
Allergens: Nil

Nutritional Information:
Servings per pack: 2 || Serving Size: 120g
Ave Quantity

Per Serve

% Daily Intake

Per Serving

Ave Quantity

Per 100g

Energy (kJ)

582

7%

485

(140Cal)

-

(117Cal)

Protein (g)

6.2

12%

5.2

Fat – Total (g)

1.6

2%

1.3

       - Saturated (g)

0.2

<1%

0.2

       - Trans (g)

<0.1

-

<0.1

       - Polyunsaturated (g)

0.8

-

0.7

       - Monounsaturated (g)

0.5

-

0.4

Cholesterol (g)

Nil Detected

-

Nil Detected

Carbohydrates – Total (g)

22.8

7%

19.0

                      - Sugars (g)

0.7

<1%

0.6

                      - Lactose (g)

Nil Detected

-

Nil Detected

                      -Galactose (g)

Nil Detected

-

Nil Detected

Dietary Fibre (g)

3.8

13%

3.2

Sodium (mg)

12

<1%

10
*Percentage daily intakes are based on an average adult diet of 8700 kJ. Your daily intakes may be higher or lower depending upon your energy needs
Pack and Carton Size:
PACK: 1 x 240g || CARTON: 6 x 240g Packs 1.44kg net
Shelf Life:
Fresh: 8 weeks from date of manufacturing. Store refrigerated at 1-4°C. Once packet is opened, use within 3 days.
WHERE TO BUY