---
Kale Vegie Burgers with Smoked Paprika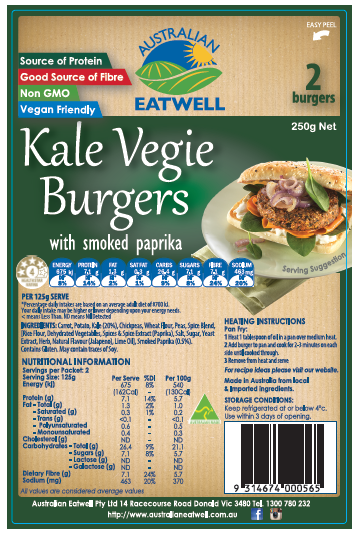 Interested in stocking
our delicious products?
Kale Vegie Burgers with Smoked Paprika
Kale, known as one of the healthiest, nutritious plant food around. Our Kale Burger is mildly spiced, enhanced with the addition of smoked paprika compliments kales earthy tones. Enjoyed with toasted Turkish bread, fresh baby spinach leaves, thinly sliced pan fried sweet potato and sliced red onion.
Source of Protein
Source of Fibre
Non GMO
Lactose & Dairy Free
Preservative Free
Vegan Friendly
Cholesterol Free
Ingredients: Carrot, Potato, Kale (20%), Chickpeas, Wheat Flour, Peas, Spice Blend (Rice Flour, Dehydrated Vegetables, Spices & Spice Extract (Paprika), Salt, Sugar, Yeast Extract, Herb, Natural Flavour (Jalapeno), Lime Oil), Smoked Paprika (0.5%). Contains Gluten. May contain traces of Soy.
Allergens: Gluten.
Nutritional Information:
Servings per pack: 2 || Serving Size: 125g (1 Burger)
Ave Quantity

Per Serve

% Daily Intake

Per Serving

Ave Quantity

Per 100g

Energy (kJ)

675

8%

540

(162Cal)

-

(130Cal)

Protein (g)

7.1

14%

5.7

Fat – Total (g)

1.3

2%

1.0

       - Saturated (g)

0.3

1%

0.2

       - Trans (g)

<0.1

-

<0.1

       - Polyunsaturated (g)

0.6

-

0.5

       - Monounsaturated (g)

0.4

-

0.3

Cholesterol (g)

Nil Detected

-

Nil Detected

Carbohydrates – Total (g)

26.4

9%

21.1

                      - Sugars (g)

7.1

8%

5.7

                      - Lactose (g)

Nil Detected

-

Nil Detected

                      -Galactose (g)

Nil Detected

-

Nil Detected

Dietary Fibre (g)

7.1

24%

5.7

Sodium (mg)

463

20%

370
*Percentage daily intakes are based on an average adult diet of 8700 kJ. Your daily intakes may be higher or lower depending upon your energy needs
Pack and Carton Size:
PACK: 2 x 125g || CARTON: 6 x 250g Packs 1.5kg net
Shelf Life:
Fresh: 8 weeks from date of manufacturing. Store refrigerated at 1-4°C. Once packet is opened, use within 3 days.
WHERE TO BUY