---
Sweet Potato Burgers with Quinoa, Apple & Fennel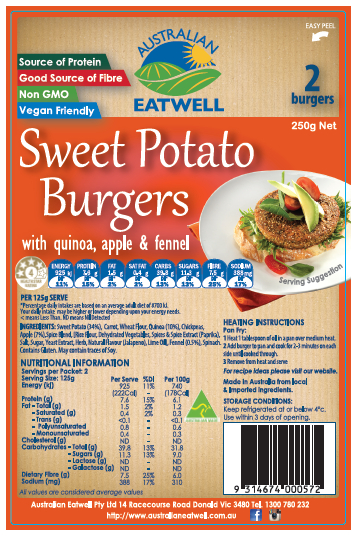 Interested in stocking
our delicious products?
Sweet Potato Burgers with Quinoa, Apple & Fennel
Ranks high as a low GI food. Our Sweet Potato Burger with Quinoa, Apple & Fennel has the added benefit of whole white quinoa seeds. The complimenting flavours of apple and crushed fennel seed rounds this burger into a fantastic combination of aromas and flavour when cooked and served. This burger really works with a bed of fresh rocket leaves, sliced avocado, cherry tomatoes and a sprinkle of coarsely ground black peppercorns.
Source of Protein
Good Source of Fibre
Non GMO
Lactose & Dairy Free
Preservative Free
Vegan Friendly
Cholesterol Free
Ingredients
Sweet Potato (34%), Carrot, Wheat Flour, Quinoa (10%), Chickpeas, Apple (7%), Spice Blend (Rice Flour, Dehydrated Vegetables, Spices & Spice Extract (Paprika), Salt, Sugar, Yeast Extract, Herb, Natural Flavour (Jalapeno), Lime Oil), Fennel (0.5%), Spinach. Contains Gluten. May contain traces of Soy.
Allergens: Gluten.
Nutritional Information:
Servings per pack: 2 || Serving Size: 125g (1 Burger)
Ave Quantity

Per Serve

% Daily Intake

Per Serving

Ave Quantity

Per 100g

Energy (kJ)

925

11%

740

(222Cal)

-

(178Cal)

Protein (g)

7.6

15%

6.1

Fat – Total (g)

1.5

2%

1.2

       - Saturated (g)

0.4

2%

0.3

       - Trans (g)

<0.1

-

<0.1

       - Polyunsaturated (g)

0.8

-

0.6

       - Monounsaturated (g)

0.4

-

0.3

Cholesterol (g)

Nil Detected

-

Nil Detected

Carbohydrates – Total (g)

39.8

13%

31.8

                      - Sugars (g)

11.3

13%

9.0

                      - Lactose (g)

Nil Detected

-

Nil Detected

                      -Galactose (g)

Nil Detected

-

Nil Detected

Dietary Fibre (g)

7.5

25%

6.0

Sodium (mg)

388

17%

310
*Percentage daily intakes are based on an average adult diet of 8700 kJ. Your daily intakes may be higher or lower depending upon your energy needs
Pack and Carton Size:
PACK: 2 x 125g || CARTON: 6 x 250g Packs 1.5kg net
Shelf Life:
Fresh: 8 weeks from date of manufacturing. Store refrigerated at 1-4°C. Once packet is opened, use within 3 days.
WHERE TO BUY