---
Chickpea, Cumin & Coriander Organic Vegetable Burgers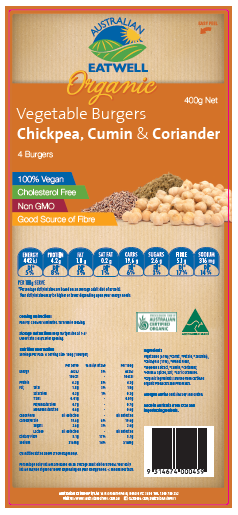 Interested in stocking
our delicious products?
Chickpea, Cumin & Coriander Organic Vegetable Burgers
Inspired by falafel flavour profiles. This Certified Organic Vegetable Burger presents distinctive cumin & coriander notes with a touch garlic and slightly spiced with cayenne pepper. For quick healthy meal option, cook & slice burger into strips, place in a wrap with tabouli, cos lettuce, cucumber & dress with hommus.
Certified Organic
Non GMO
Cholesterol Free
Lactose & Dairy Free
Preservative Free
Vegan & Vegetarian
High Fibre
Ingredients:
Vegetables (61%) (Carrot, Potato, Zucchini), Rehydrated Chickpeas (11%), Wheat Flour, Soybean Extract, Cumin, Coriander, Herbs & Spices, Sea Salt, Garlic Granules. Organic ingredients sourced from Certified Organic Producers and Processors.
Allergen: Soy, Gluten
Nutritional Information:
Servings per pack: 4 || Serving Size: 100g (1 Burger)
Ave Quantity

Per Serve

% Daily Intake

Per Serving

Ave Quantity

Per 100g

Energy (kJ)

442kj

5%

442kj

(106Cal)

-

(106Cal)

Protein (g)

4.2g

8%

4.2g

Fat – Total (g)

1.8g

3%

1.8g

       - Saturated (g)

0.2g

1%

0.2g

       - Trans (g)

<0.01g

-

<0.01g

       - Polyunsaturated (g)

0.7g

-

0.7g

       - Monounsaturated (g)

0.6g

-

0.6g

Cholesterol (g)

Nil Detected

-

Nil Detected

Carbohydrates – Total (g)

19.6g

6%

19.6g

                      - Sugars (g)

2.6g

3%

2.6g

                      - Lactose (g)

Nil Detected

-

Nil Detected

Dietary Fibre

 5.1g

17%

 5.1g

Sodium (mg)

316mg

14%

316mg

*Percentage daily intakes are based on an average adult diet of 8700 kJ. Your daily intakes may be higher or lower depending upon your energy needs
Pack and Carton size:
PACK: 4 x 100g || CARTON: 6 x 400g Packs 2.4kg net
Shelf Life:
Fresh: 8 weeks from date of manufacturing. Store refrigerated at 1-4°C. Once packet is opened, use within 3 days.
WHERE TO BUY