---
Chickpea and Spinach Vegetable Sausages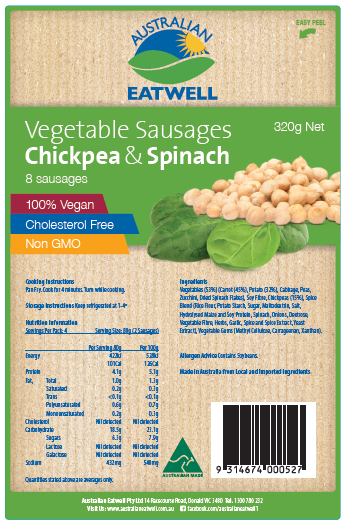 Interested in stocking
our delicious products?
Chickpea and Spinach Vegetable Sausages
Blend of home-grown Kabuli chickpeas, selection of fresh vegetables, organic soy fibre and custom made blend of herbs & spices. Our method is simplistic to ensure we produce a wholesome product. Try our Chickpea & Spinach Sausages panfryed, sliced and layered on a bed of couscous with char grilled sweet potato, spinach leaves and dollop of mango chutney.
Non GMO
Cholesterol Free
Lactose & Dairy Free
Preservative Free
Vegan & Vegetarian
Gluten Free
Ingredients
Vegetables 53% (Carrot, Potato, Cabbage, Peas, Zucchini, Dehydrated Spinach (0.5%), Onion, Garlic), Okara (Soy), Chickpeas (15%), Vegetable Gums (Methyl Cellulose, Carrageenan, Xanthan Gum), Rice Flour, Sugar, Maltodextrin, Hydrolysed Vegetable Protein (Soy), Starch, Salt, Dextrose, Vegie Fibre, Herbs & Spices (Paprika Oleoresin). Contains Soy.
Allergen: Soy
Nutritional Information:
Servings per pack: 4 || Serving Size: 80g (2 Sausages)
Ave Quantity

Per Serve

% Daily Intake

Per Serving

Ave Quantity

Per 100g

Energy (kJ)

422kj

5%

538kj

(101Cal)

-

(126Cal)

Protein (g)

4.1g

8%

5.1g

Fat – Total (g)

1.0g

1%

1.3g

       - Saturated (g)

0.2g

1%

0.3g

       - Trans (g)

<0.1g

-

<0.1g

       - Polyunsaturated (g)

0.6g

-

0.7g

       - Monounsaturated (g)

0.2g

-

0.3g

Cholesterol (g)

Nil Detected

-

Nil Detected

Carbohydrates – Total (g)

18.5g

6%

23.1g

                      - Sugars (g)

6.3g

7%

7.9g

                      - Lactose (g)

Nil Detected

-

Nil Detected

                      -Galactose (g)

Nil Detected

-

Nil Detected

Sodium (mg)

540mg

19%

432mg

*Percentage daily intakes are based on an average adult diet of 8700 kJ. Your daily intakes may be higher or lower depending upon your energy needs
Pack and Carton size:
PACK: 8 x 40g || CARTON: 6 x 320g Packs 1.92kg net
Shelf Life:
Fresh: 8 weeks from date of manufacturing. Store refrigerated at 1-4°C. Once packet is opened, use within 3 days.
WHERE TO BUY